Emirates Group Partners with GE, Etisalat and DSOA to Launch Intelak
Summary
DUBAI, U.A.E: The Emirates Group in collaboration with GE, Etisalat and Dubai Silicon Oasis Authority (DSOA) today announced the launch of a joint initiative targeting young entrepreneurs and students in the UAE.
The joint initiative, called Intelak, will bring together selected entrepreneurs and students from across the UAE to participate in a travel, technology and aviation-focused Incubator. Four winning teams, who will be selected through a rigorous judging process, will be enrolled in the full Intelak Incubator training programme and receive AED 50,000 each to fund and further develop their ideas.
"The aviation industry is constantly changing and being technologically-advanced and innovative is the only way to stay ahead. Intelak is the ideal platform to inspire and work with young entrepreneurs to shape the future of travel through new and original ideas. At the Emirates Group, we are fully committed to redefine the travel experience as we continue to invest in the next generation of technology leaders in UAE," said Abdulaziz Al Ali, Emirates Executive Vice President, Human Resources.
Living up to its meaning in Arabic – taking off – Intelak will support young entrepreneurs in their quest to become part of the innovative ecosystem in the UAE. Whether they're university students or local start-up entrepreneurs, the programme will provide the winning teams with the necessary resources to be able to pave their own career path, develop their business ideas and turn theory into a practical reality.
The collaborative effort between the Emirates Group, GE, Etisalat and DSOA is in line with Dubai's vision in promoting innovation as a key economic driver.
Rania Rostom, Chief Innovation Officer for GE in the Middle East, North Africa & Turkey said, "Innovation is at the heart of the UAE's development narrative, with the nation's leadership focused on promoting an innovation-driven entrepreneurial ecosystem. Intelak serves the dual purpose of not only nurturing talent in the UAE, but also contributing to the growth of the aviation and travel sectors, both drivers of the national economy. As a long-term partner in the socio-economic progress of the country, GE has been driving a culture of localised innovation and fostering digital industrial entrepreneurship. Our partnership with the cofounders will set the platform for bringing bright new ideas to life."
Francisco Salcedo, Etisalat's Senior Vice President, Digital Solutions, said: "We are pleased to be part of this strategic partnership with three prominent establishments such as Emirates, GE and Dubai Silicon Oasis Authority. The importance of this Incubator relies on three key factors; one is its novelty, as it's one of the few incubators that focuses on aviation, travel and tourism technologies around the world. The second factor is having this Incubator programme backed by leaders in the technology, innovation and aviation industries, which enables local entrepreneurs to learn first-hand from our experts. And the third being its importance as a first step to create niche technology focused incubators that will help create new job and business opportunities and grow the local economy."
The Incubator will be hosted at Dubai Technology Entrepreneur Centre (DTEC), DSOA's wholly owned technology incubational centre and the largest of its kind.
Commenting on the partnership, Shahla Ahmed Abdul Razak, Deputy CEO of Dubai Silicon Oasis Authority, said: "We are pleased to host the new Incubator at the Dubai Technology Entrepreneur Centre, which we are confident will significantly contribute to the support of innovative youth, especially in the travel and aviation sectors. We are certain that Intelak will further encourage innovative young UAE national entrepreneurs to transform their ideas into reality, all the while contributing to the GDP of Dubai."
She added: "Choosing DTEC as the base of the Incubator is proof of the mutual goals we share with the Emirates Group, to back the future generation. Hence, leveraging the capabilities of DTEC as the largest technology incubator of its kind in the region, we will provide this project with all the support needed to ensure its sustained success."
The Emirates Group, GE and Etisalat will reach out to universities, entrepreneurial centres and co-working spaces to seek out talented teams that are passionate about this challenge. The partners will accept online submissions from September 6 until October 31st at www.intelak.com, and will judge ideas based on creativity, innovation, feasibility, and scalability. They will then select 20 top contenders to be enrolled in an intensive two-week boot camp that will train the teams through workshops on design thinking, financial modelling, marketing, and building an investor pitch. The culmination of these two weeks will be a pitch day, during which four teams will be chosen as winners.
Winners will receive a cash prize of 50,000 AED, to be distributed at key milestones, and will be enrolled in Intalek. The Incubator, located in the heart of Dubai's innovation hub – the Dubai Technology Entrepreneurship Centre (DTEC) – will be a three-month long program. It will consist of structured modules, mentorship, and office hours to support the continued development of each team's winning idea.
At the conclusion of the programme, the winning teams will be given the opportunity to pitch their ideas to the cofounders, as well as angel investors.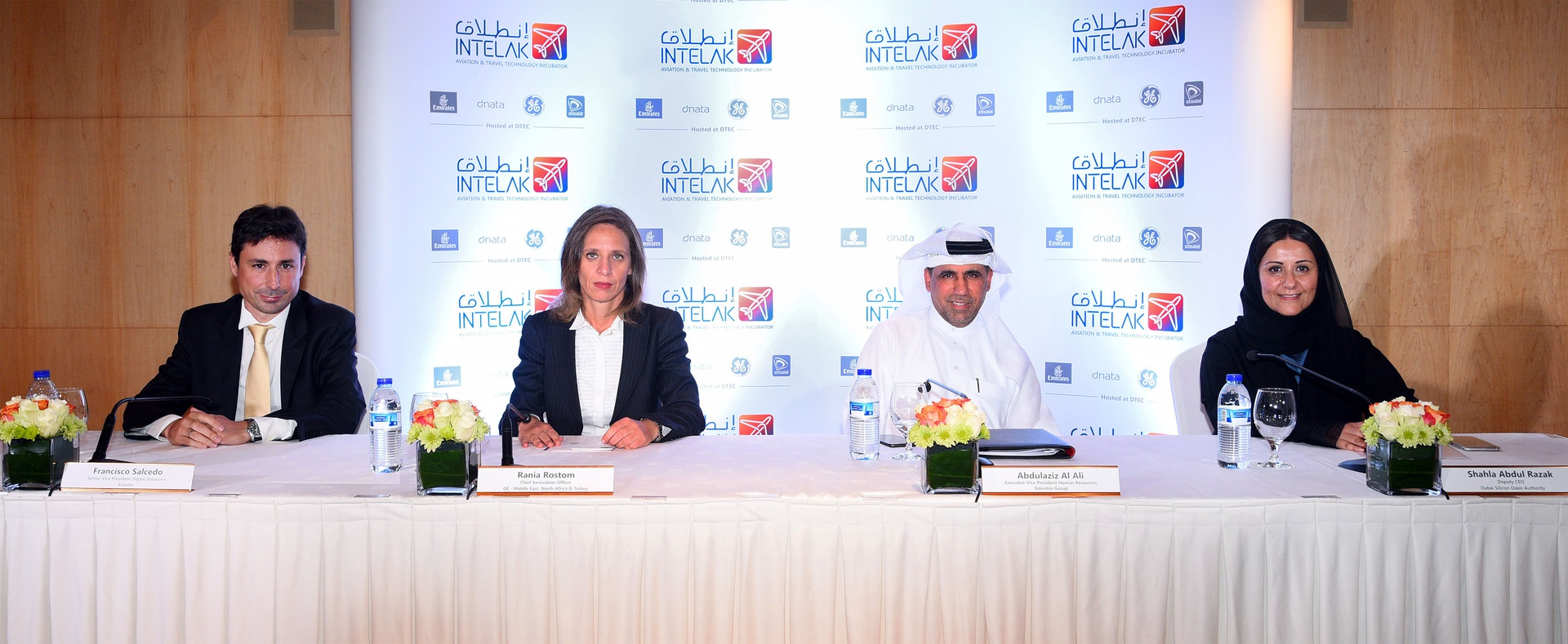 From left to right: Francisco Salcedo, Etisalat's Senior Vice President, Digital Solutions; Rania Rostom, Chief Innovation Officer for GE in the Middle East, North Africa & Turkey; Abdulaziz Al Ali, Emirates Executive Vice President, Human Resources; and Shahla Ahmed Abdul Razak, Deputy CEO of Dubai Silicon Oasis Authority at the launch of Intelak
About the Emirates Group
The Emirates Group has spread its wings into every aspect of travel and tourism to become a leading global corporation in its field. With one of the youngest fleets in the sky and more than 500 awards for excellence worldwide, Emirates airline is one of two key divisions in the group.The other is dnata, which provides services in ground handling, cargo, travel, IT solutions and flight catering. Established in 1959, today, dnata is the world's fourth largest combined air services provider with a global footprint extending to almost 75 countries. Propelled forward by their united strength, the two have evolved at a phenomenal rate to establish the Emirates Group as an immense organisation, spanning a portfolio of more than 50 brands and employing over 75,000 people.
About GE
GE (NYSE: GE) is the world's Digital Industrial Company, transforming industry with software-defined machines and solutions that are connected, responsive and predictive. GE is organized around a global exchange of knowledge, the "GE Store," through which each business shares and accesses the same technology, markets, structure and intellect. Each invention further fuels innovation and application across our industrial sectors. With people, services, technology and scale, GE delivers better outcomes for customers by speaking the language of industry.
About Etisalat
Etisalat is one of the world's leading telecom groups in emerging markets. Headquartered in Abu Dhabi, Etisalat was established four decades ago in the UAE as the country's first telecommunications service provider. An international blue-chip organization, Etisalat provides innovative solutions and services to 163 million subscribers in 17 countries across the Middle East, Asia and Africa.
Etisalat's mission is to provide a best-in-class total customer experience for retail and business, deliver attractive returns to shareholders while investing in the long-term future of the company, and supporting economic development in all the markets it operates in. Aspiring to be the most admired telecom group in emerging markets, Etisalat strives to consistently foster innovation and deliver first-in-market technologies wherever it operates. This is evidenced by its many technological firsts and successes in the UAE and across its markets.
About DTEC
Dubai Technology Entrepreneur Centre (DTEC) is a technology incubation centre wholly owned by Dubai Silicon Oasis Authority (DSOA). DTEC is a purpose-built, start-up business centre designed to support young technology entrepreneurs and providing a nurturing platform for seed ventures. Spanning more than 4,600 square metres space, the facility is the largest of its kind in the Middle East region.
DTEC comprises state of art flexible desks, workstations, and offices, with facilities including 24-hour secure access and storage, as well as high-speed Wi-Fi, meeting rooms and printer stations. DTEC also offers a creative and inspirational work environment. DTEC also provides companies with highly subsidized business licenses and multiple employment visas.
More than 540 emerging startups and entrepreneurs currently benefit from DTEC in terms of office space, advisory support, counselling, and financial assistance.
DTEC is located within Dubai Silicon Oasis at the intersection of Sheikh Mohammed Bin Zayed Road (E311) and Al Ain Road (E66), minutes away from Dubai International Airport, Dubai International Financial Centre and Downtown Dubai.